Int N S Ch Tibesi's Tango Violetta (Letta)
In memory to Letta who died 25. July 2001.

We will never forget you and you will allways be in our hearts.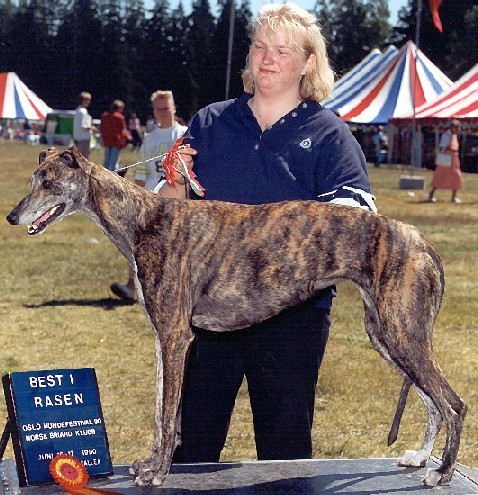 Letta became BOB in Oslo Dog Show in 1990
In 1991 Letta had a litter, born August 9th. It was 5 males and 4 bitches. All the puppies get their name after gems.

This was the first Greyhounds born in North-Norway.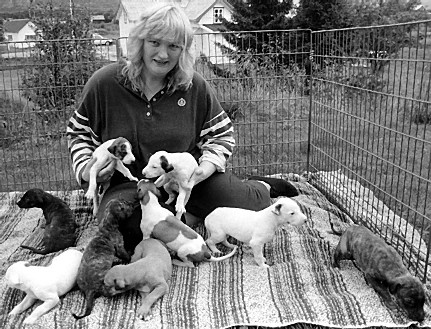 North-Norway have the first Greyhound litter in 1991. (Photo: Nordlandsposten)
We kept a white bitch and give her the name "Azravi's Gemme". In 1993 we buy back a brother of Gemme, "Azravi's Jaspis", and we have had some joyful years later on.
In a age of 12 year, Letta still know how to show herself. (Photo: Ivar Aanes)
Letta was living like a princess on her old days. She loved to lay down in the sofa all day long. 21. May 2001 Letta became 13 year old and we had a little birthdayparty with cookies and other snacks. We had to do some extra for the burthday baby and the other dogs was very happy for the extra snack.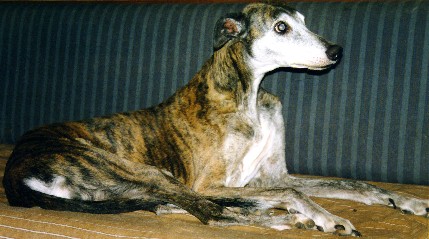 Letta on her 13. birthday 21. May 2001(Photo: Ivar Aanes)

Last updated: 11.01.2010