In memory to Jaspis who died 17. July 2003
Such a dog like you we will never get again, we miss you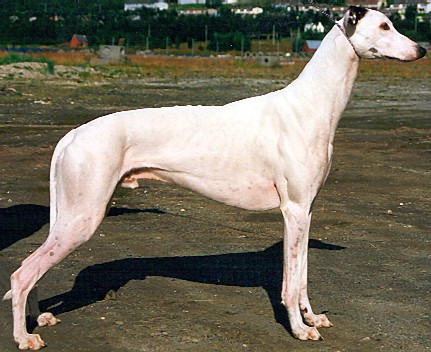 INT NORD CH NV94 Azravi's Jaspis. (Photo: Ivar Aanes)
Jaspis have been on most of the dogshows in the Nordic countries. He has been a known dog for most of them who have been on one or another dogshow. If we don't have Jaspis with us on a dogshow, we almost everythime get the question; where is Jaspis? Over the years we have travel tousends of miles with Jaspis, likely his earlier owner, Ernst Jacobsen from Bodø. We dont think we are lying if we said that Jaspis have use most of his life on dogshows around in Scandinavia.

But Jaspis have not be our only Greyhound on dogshows in Scandinavia, hunting after "glory and celebrity". He have travel around with the daughter of his sister "Gemme", namely "Ella", Azravi's Imperial D' Elegance. She have also, like her uncle, stand on the top of the rostrum.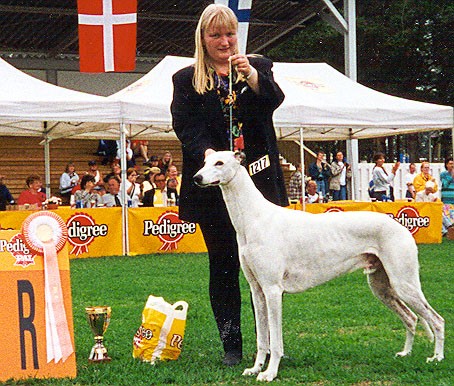 Jaspis became BIS 5 on SKK's int. dogshow in Piteå 1997.
Also on his older days, Jaspis have won many dogshows as a veteran. He became t.ex. BIS veteran on Skokloster in 1999 and he also became BIS veteran on NKK's int. dogshow in Fauske 1999.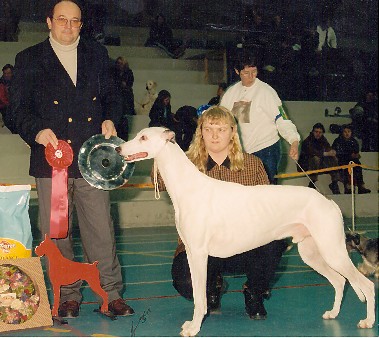 Jaspis became BIS veteran on NBK's dogshow in Ekeberg 1999.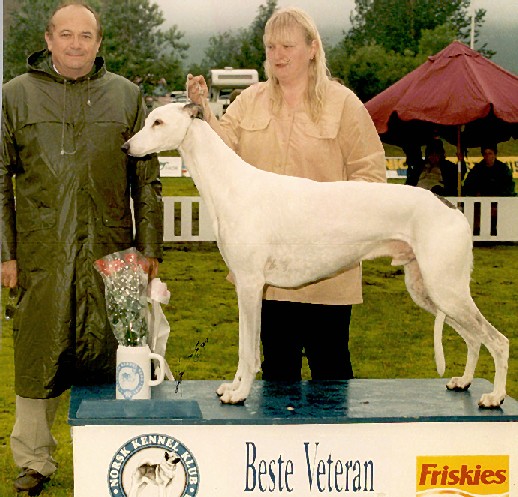 Jaspis became BIS veteran on NKKs int. dogshow in Fauske 1999.
Jaspis have also became a father on his "old" days. In juli 2000 he bacame father to 5 puppies. His children seems to inherit his beatifuel and lovely look.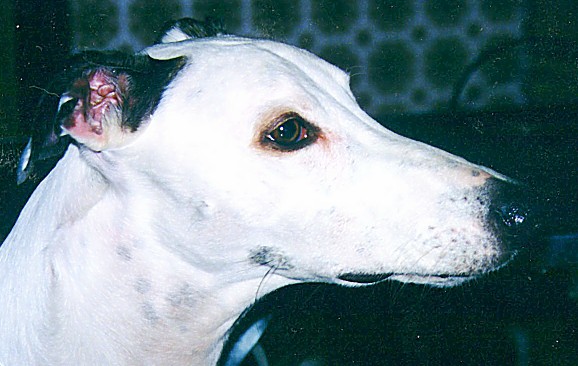 Jaspis dont seems to worry himself, even that he is been a father or 10 year old. (Photo: Ivar Aanes)